Is it becoming your everyday struggle to zip up your jeans? Those fancy crop-tops are giving you a nostalgic feeling just because of fat stored in your belly? Are you trying to hide it while clicking pictures?
So follow as Shradha Kapoor says," Chupane ki jagah belly fat ghatane ki aadat dalo".(Instead of hiding belly fat, try to lose it).
Belly Fat: What is it?
It is the extended waistline and sometimes considered as the price of getting older. It is also known as 'visceral ' fat that is stored deep inside the belly or other vital organs such as the liver, heart or intestines. And the surprising thing is that it can cause thinner people as well or even if you have abs. Men or women both can go through belly fat.
Belly Fat and Shape of your Body
Pear-Shaped Body
People who have a pear-shaped body have extra fat on the lower body parts like hips and thighs which can be touched by hands.
Apple-Shaped Body
The apple-shaped belly is known as the beer belly. In this the fat is stored around the stomach while the lower body continues to be slim.
Furthermore according to experts there are other different types of belly fat:
Hormonal Belly:
In this PCOS is the main cause as the weight gain happens around the lower belly, especially around the pelvic region.
Stress Belly:
When the upper belly right beneath the ribs expands or bulges out and you feel uncomfortable after a long tiring day, then it must be your stress belly.
Alcohol Belly:
Alcohol belly is the weight gain when the overall belly protrudes from underneath the diaphragm.
Mummy Belly:
It is the type of belly that can be seen in women after the post pregnancy. It is a gap that can be felt between the stomach muscles in the upper abdomen that may feel loose.
What causes Belly Fat?
The accumulation of excess belly fat is due to several reasons. Few of them are listed below:
Sugary Food and Beverages:
Research suggests that people who drink sugary beverages everyday tend to accumulate more deep belly fat over time. These drinks contain high fructose levels which in result protrudes weight gain.
Wake Up and Beat Belly Fat For Healthy Living!:
Alcohol forms beer belly in which any kind of calories whether from alcohol, sugar beverages, or oversized portions of food can increase belly fat. An expert says, "In general, alcohol intake is associated with bigger waists, because when you drink alcohol the liver burns instead of fat". Hence fat is stored in the belly causing alcohol belly.
Sedentary Lifestyle:
If you are involved in a sitting job all day along then you are having a sedentary lifestyle. Such a lifestyle can build fat around your organs and can form belly fat.
Stress:
Cortisol levels triggered by stress can form stress belly and can affect our overall health. To reduce belly stress it is necessary to eat a balanced diet and add physical activity. Also try to manage stress from yoga, meditation, arts, playing, spending time nature which can reduce your cortisol levels.
Genetics:
Many studies have indicated that genetics play a major role in forming belly fat. So try moderate- intensity exercises and choose good foods for you and cut calories.
How to Reduce Belly Fat?
Exercise:
There is no other way better than exercise in reducing belly fat. Exercises such as cardio that can be added in your daily routine at least for 30 minutes. You can also try running, walking, swimming or cycling. Studies suggest that aerobic exercises help to reduce belly fat and liver fat. Hence exercise is your answer on how to lose belly fat fast.

Diet:
Diet rich in high-protein foods such as eggs, fish, seafoods, legumes, nuts, meat and dairy products results in reduced abdominal fat. It provides more satiation and increased metabolic function. Adding fiber rich foods can also contribute to keeping off the body fat.

Sleep:
Shorter sleep duration can increase your accumulation of stored fat in the belly. So it's better to take at least 7-8 hours of sleep.Better sleep can increase your physical activity and the best solution on how to lose belly fat naturally.

Health Risks associated with Belly Fat
High Blood Pressure:
Weight gain around your midsection can increase the risk of high blood pressure. People with high blood pressure can result in other health related problems. Though such problems are common in adults, these days children are also at a higher risk due to their poor lifestyle and eating habits.
High Cholesterol:
High cholesterol occurs when you have too much fatty substance stored in your body. It mainly happens with eating fatty foods, not exercising enough, being overweight, smoking and drinking alcohol. Belly fat is one of the reasons for high cholesterol so lower your cholesterol by eating healthily and getting more exercise.
Type-2 Diabetes:
As obesity is the increased risk among children as well and so does type 2 diabetes. Earlier type 2 diabetes used to be known as adult-onset diabetes but now type 1 and type 2 diabetes can begin through childhood and adulthood as well. It is said there is no cure for type 2 diabetes but eating well, exercising enough can manage your disease.
Breathing Problems:
According to French researchers, carrying excess weight around your belly can lead to a long list of respiratory and breathing problems. The weight of belly fat on the chest wall makes it harder for lungs to fill in the air and thus creates breathing problems
Heart Disease:
If you have a heart disease you may go through heart attack, heart failure, sudden cardiac death or abnormal heart rhythm. High blood pressure, abnormal levels of blood fats and high blood glucose levels may raise the risk of heart disease.
Fatty Liver Diseases:
Fatty liver diseases are the conditions in which fat builds up in your liver. It can cause severe liver damage, Cirrhosis, or even liver failure.
Best Recommended Supplement to Reduce Belly Fat
There is a misconception around people that supplements work as magic pills and is a quick solution to the question i.e. how to lose belly fat. But the reality is far different from what we perceive. A good fat burner supplement works better only if you are taking a proper diet and adding exercise in your daily routine.
What do supplements do?
It boosts your fat melting process so that your muscles can grow more quickly and visibly stronger hence how to lose stomach fat.
It increases your energy levels so that you can have intense workout sessions.
It helps you in achieving a perfect physique, which is difficult to build with dieting only.
So if you're looking to Reduce Belly Fat, add supplements. What about Ketogen Advance Slimming Complex?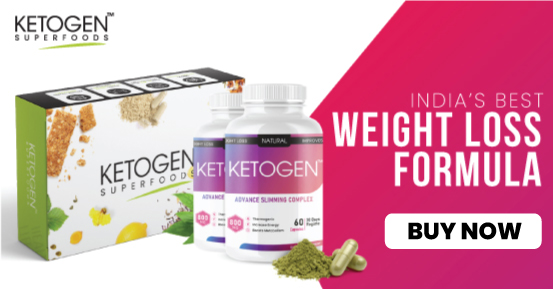 Ketogen Advanced Slimming Complex is known to increase metabolic rate which then helps to promote weight loss. It is also a good source of antioxidants that will keep your body cells healthy and active.
This is an advance formula with:
No Gluten:
As it is gluten free thus it does not cause any digestive problems.Add gluten free food items such as quinoa, flax, corn, sorghum etc. Celebrities from Oprah Winfrey to Miley Cyrus maintain their gluten free weight loss.
No Soy:
Ketogen Superfoods Advanced Slimming complex is found without soy which helps in reducing weight or burn calories..
No Added Sugar:
Sugar is extremely bad for your weight. So if you are really dedicated to losing your weight then stay away from sugar.
Nothing Artificial:
It is made up of pure natural ingredients. It is a combination of eight herbs to trigger your weight loss and keeps your energy level maintained along with gut health and improved digestion.
No Fillers or Chemicals:
Yes it is without any binders and fillers. It is100% natural and plant- based.
Simple Ways to Reduce Belly Fat
Water-Loss:
Water makes up 60% of your body weight so it's the first thing that you lose. Fat mass doesn't change quickly but you can lose as much as five pounds of water in a day.
Inch-Loss:
Then the inch loss happens. In this your weight remains the same but you start trimming your inches. You start losing inches around your waistline, hips and thighs.
Weight-Loss:
After water-loss and inch-loss, you start losing weight. And this is the stage where most of the people get trapped in their initial time.

Hence it is necessary to be patient and consistent in your fat loss journey. Nothing can happen overnight, change your diets and change your lifestyle. This is your body and it's your responsibility to be taken care of.

Share your experience with us on how you reduce belly fat in the comment box